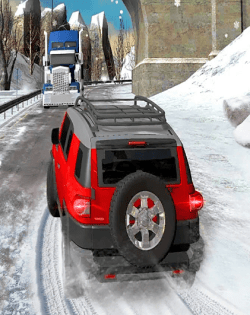 Heavy Jeep Winter Driving
Heavy Jeep Winter Driving is a driving simulation game, developed by game studio VitalityGames. In this game, players will control a specialized heavy jeep to drive on snowy passes and overcome difficult challenges.
Maximize

About
Heavy Jeep Winter Driving is an online game that simulates driving a heavy jeep through snowy and icy terrain. The game features realistic physics and controls, as well as challenging levels that test the player's driving skills.
The goal of the game is to drive the jeep through the snowy terrain, avoiding obstacles and completing various challenges along the way. The player must navigate through tight turns, steep hills, and slippery ice patches, while also trying to maintain control of the jeep.
The game features different levels of difficulty, from beginner to expert, and players can choose to play in a variety of modes, including time trial and free ride. The game also features a variety of different jeeps to choose from, each with its own unique handling and characteristics.
The game's graphics are realistic and immersive, with detailed snow and terrain effects that add to the overall experience. The game also features realistic sound effects, including the sound of the jeep's engine and the crunch of the snow beneath the tires.
It is a challenging and immersive game that offers a realistic driving experience in a snowy and icy environment. It's challenging levels and realistic physics make it a popular choice for gamers who enjoy driving games and simulation games.
Heavy Jeep Winter Driving game features include:
Stunning 3D Graphics: The game is designed with sharp 3D graphics and beautiful colors, giving players a great experience.
Multiple levels and challenges: The game offers many different levels, each with different challenges for players to overcome.
Various Vehicles: Players can choose from a variety of vehicles to join the adventure.
Vehicle Equip: Players can upgrade and customize their vehicle so that it becomes more powerful and easily overcomes more difficult challenges.
Easy controls: The game uses simple controls, with arrow keys to control the car moving on the snowy pass.
Scores: Players can accumulate scores as they pass different levels and challenges, and compare them with other players' scores on the online leaderboards.
How to play
How to play the game Heavy Jeep Winter Driving is quite simple. Players use arrow keys to control their jeep to overcome obstacles and avoid colliding with obstacles on the way. They can also upgrade their vehicles to increase their controllability and power and accumulate scores to rank up on online leaderboards.
You control the game with the WASD keys. You can prove your skills in the snow within 10 levels!
---
Related Games